PRESIDENT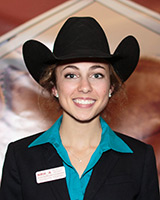 Hello! My name is Shaelyn Vering - you probably know me as past Secretary and current Vice President of the NRHyA. I'm from a small town in northeastern Nebraska where I am a junior at Guardian Angels Central Catholic High School. At school I participate in speech, one act, cheerleading, and dance as well as student council and peer ministry. I like to seize opportunities to make myself a better leader and make connections with others.

Speaking of making myself a better leader, these past two years as an officer have definitely done just that. The people that have surrounded me on my journey as an officer have spectacularly prepared me for a year as President. In addition to simply being a leader, I know and love this association inside and out, and I only want it to improve. The same goes for you - the youth! I want to get to know you better so that I can make the best decisions for all of us. These decisions will go beyond the solid infrastructure of the youth association by painting the outside with opportunities and excitements that are fun for everyone.

Shoutout to all of you who have supported me and this association, our sport and passion.
VICE PRESIDENT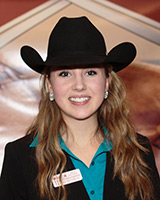 Hello! Claire Dittrich here and I am a junior at Elkhorn Valley High Schools in Tilden, Nebraska. I have traveled countless miles with my family competing with horses over many years. The NRHyA has given me many opportunities to become a better rider and person. I was honored to have served as the NRHyA 2013 Treasurer and the 2014 Historian. Serving as an officer has been a great opportunity for personal growth as well as creating wonderful memories. This year I am taking several college credit courses while being involved in show choir, dance, speech, and jazz band. My priority is to maintain a 4.0 grade average. 2014 was my first year with my new reining horse Whiz N Chica Dee from the Loomis Ranch. We are lucky to own this talented, great horse aptly named "Houdini." We are having great success together.

I am honored to be your Vice President of this fine organization. As vice president, I hope to show the youth how many things they can become easily involved in. I plan to give back to the NRHyA as they have given me so much. I plan to work hard for our organization and be faithful to my team. I also plan to lead our youth in the right direction by showing them what their real potential as individuals is. The sport of reining offers vast opportunities for personal growth, focus, success, and family involvement.
SECRETARY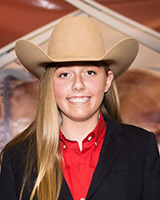 Hello my name is Morgan Knerr I live in Plain City, Ohio and I am a sophomore at Dublin Jerome High School. I participate in softball, Spanish club, and teen institute at my school. I am also a part of the Interscholastic Equestrian Association, I am on the Autumn Rose Equestrian Team. This is my fifth year on the team and my first year being the team secretary. I have gone to the IEA nationals 3 years in a row and this past year I was a national champion. I have been a part of NRHyA for 4 years, within those 4 years I have been showing at East Central regional shows and regional finals. I was elected a delegate this past year for the East Central region and I had tons of fun getting to be a bigger part of the youth program. I am very excited to be the NRHyA secretary this year and I can not wait to be even more involved with the NRHyA and to help promote and educate the sport of reining to up and coming youth.
TREASURER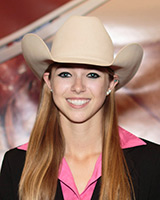 Hello, My name is Courtney Yohey, I am 16 years old and from Modesto, California. I am a Junior honor student at Enochs High School. Horses are my passion. It's pretty much all I do. I love hanging out with my friends at shows and I love going to out of town shows and meeting new people. I have been a member of NRHyA, AQHyA, APHjA, WCRHyA (West Coast Reining Horse youth Association) and PCQHyA ( Pacific Coast Quarter Horse Association) since 2007. I feel honored to be a part of the the 2015 officer team. I look forward to the great things we are going to accomplish this year.
HISTORIAN
Hi! I'm Kenleigh Wells.

I am a freshman at Valley View High School in Valley View,Texas. I am honored to be the 2015 NRHyA Historian. I am currently serving as a South Central Delegate and the President of the OKyRHA.

I have been showing reining horses since I was eight years old. My horse, The Ultimate Magnum and I, were blessed to win the 2012 NAAC 13-U championship and 2014 NAAC Reserve Champion 13-U. So, I basically Love showing and all things reining.

Additionally, I am the parliamentarian of the 4-H Livestock club, a member of Valley View FFA, and Valley View Lady Eagle (Basketball/Volleyball). I also love traveling with my family.

Help me create the history we all want, with your pictures....so that 2015 will be an incredible year with the NRHyA!

See you at the officer meeting and let me know if you need anything else.