PRESIDENT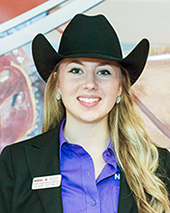 Hello! Claire Dittrich here from Tilden, Nebraska where I am completing my final year of high school. I have been lucky to meet many of you over the last few years, having traveled nearly everywhere with my family and horses showing from Minnesota to Texas. What a great ride it has been, I couldnít ask for a better organization to be a part of. The NRHyA is more than just an organization to me; it is my family away from home. It has not only provided me with leadership experience, but also with so many close connections. These people that I have met have helped me to become the person I am today, inside and outside the showpen. My priority is to maintain a 4.0 grade average while being involved in many extracurricular activities including dance, band, choir, show choir, speech, science bowl, and FCCLA. Last year was very exciting as I was the 2014 NAAC youth 14-18 champion.

I was honored to have served as the NRHyA 2013 Treasurer, the 2014 Historian, and the 2015 Vice President. In these past few years I have garnered a solid understanding of our organization and have developed good leadership skills to help me help you in the future. As your president, I plan to listen to you and represent you to the best of my abilities. Hopefully I will be able to give back to the NRHyA as they have given me. I plan to work hard for you and our organization and be faithful to my team. Being an officer doesnít just mean being the one in charge, it means leading our youth in the right direction by setting a good standard, offering help when I can, and being available for you. That is just what I plan to do.
VICE PRESIDENT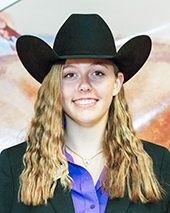 Hello! Claire Hello! My name is Morgan Knerr, I live in Plain City, Ohio and I am currently a junior at Dublin Jerome High School. At my school I participate in softball and teen institute. Showing horses is an important part of my life. I have been showing reining horses for the past five years. I am a part of NRHA, APHA, AQHA, and IEA (Interscholastic Equestrian Association). I am also the Vice President of the Autumn Rose Equestrian Team.

This past year was my first time serving on the NRHyA Officer team and I was the secretary. It has been an amazing experience that has presented me with many opportunities I would have never imagined. Iíve become more confident and articulate public speaker. I have also had the opportunity to meet some of the most talented people in the industry. Iíve made friends from all over the country.

I look forward to continuing to be a part of NRHyA and lead the youth to show them their potential and all the ways they can participate in our sport. I want to continue the growth of involvement in our organization. We are the future of the sport of Reining!
SECRETARY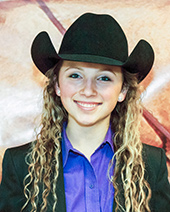 Hello my name is Hi. My name is Kenleigh Wells. I am a sophomore at Valley View High School in Valley View, Texas. This past year I was lucky to serve as your NRHyA Historian. While holding that position, I was able to capture so many great photos of many of our fellow youth riders. I really felt the 2015 NRHyA officers made a wonderful impact on other reining youth. I am happy to be a youth officer position once again in 2016.

I have been showing reining horses since I was about 8 years old. My horse, The Ultimate Magnum and I, were blessed to win the 2012 NAAC 13-U championship and the 2014 NAAC Reserve Champion 13-U. So, I basically love showing and all things Reining. Additionally, I am the Health and Safety officer at our local 4-H livestock club and a member of Valley View FFA. I also love traveling with my family. I look forward to serving you on the NRHyA Officer team and promoting the sport of Reining to all youth in 2016.
TREASURER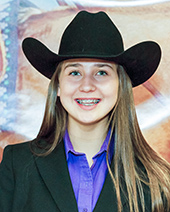 Hello, My name Hi, My name is Ally Jones. I am 14 years old and live in Franklin, Kentucky. I have been competing in reining since I was 9 years old. I mainly compete at the Tennessee Reining Horse Association (TNRHA) shows where I have qualified for the ARC finals the last three years. I qualified in 2013 and this year to compete at OKC for the Adequan North American Affiliate Championships. I was unable to attend the event in 2013 but this year I will be there and am so excited about the opportunity!

I have been a youth officer for the TNRHA for 2 years. The first year (2014) I was the Historian for the club and was elected as the President in 2015 and have been re-elected again for the 2016 show season. I was also elected as the NRHyA Delegate for the East Central Region for the 2015 show season. I love being involved in the youth program. Just being able to help get more and more kids and young adult involved in the programs such as VRC and the Youth Fundraisers has really taught me leadership skills. In addition to showing in NRHA I also compete on an IEA team, Natchez Bend where we compete in 5 shows to qualify for the Zone Championships. If you are in the top 2 at Zones you advance on to the Nationals. This coming year will be my third season with the team. The first year I was on the team I qualified for the Zone Championships (Savannah, Georgia) and the National Finals (NRHA Derby) in Reining and last year I qualified for the Zone Championships (Perry, Georgia).

Iím excited to be an NRHyA officer. I think I can use all of my leadership skills, show experience and technology knowledge to help NRHyA have a great year in pictures and commentary. I also feel like it would be very rewarding and challenging to pull together teammates from across the country and share their experiences!
HISTORIAN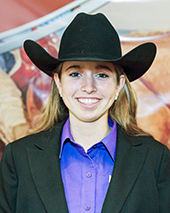 Hi! I'm Taylor Masson.

I am a sophomore and homeschooled. I live in Ft. Lauderdale, Florida. I am honored to be running to for a place on the 2016 NRHyA Officer team. I am currently a South East region delegate and started the South Florida Reining Horse Association Youth Association.

I have been showing reiners all my life. My youth horse Sugar Coated Whizen and I were blessed to win the Youth at the NRBC, Florida Reining Classic, and Carolina Derby & Classic. I have been working with my new horse Sweet Ending from Ruben Vandorp, to start many successful years together. I am so very lucky to own this talented and sweet-hearted gelding.

I also am apart of the Interscholastic Equestrian Association; I am on the Jewell Reining Team. This is my second year and previously competed at nationals at top placings.

As you might see, I love all things reining. From in the show pen to holding youth events. I had the honor of being the South East Regional Delegate the past 2 years and enjoyed getting to be a big part of the youth program to show the upcoming youth the multiple opportunities that the NRHyA has to offer. I also, enjoy traveling with my family.

I am very excited to be apart of the NRHyA Officer team to help get me and upcoming youth more involved. Help me create the history we all want so that 2016 will be an incredible year with the NRHyA!