PRESIDENT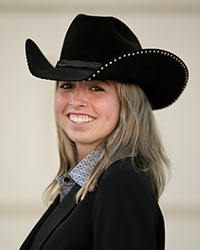 My name is Taylor Masson and I am thrilled to say that I am your new NRHyA president for 2018.

I am from Fort Lauderdale, Florida, and I am a senior in virtual school. I have been lucky enough these past two years to have been your NRHyA historian and secretary, and while serving in these positions I was able to capture memorable pictures of youth members from all of the different associations, as well as spread the love and support of our reining industry.

I am very blessed and thankful to say I will be joining the Texas A&M University Equestrian team in the fall of 2018!

This year I am looking forward to meeting more youth that share the same passion for reining horses. I believe that in these past two years I have gained a solid understanding of our organization and have developed great leadership skills to help me lead this association. I plan to work hard for our association and support the team and youth members! I also believe I can help lead the youth in the right direction and set a high standard. I am hoping to bring all my leadership skills that I have learned these past few years to the new 2018 show year!
VICE PRESIDENT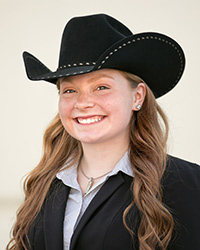 My name is Elizabeth "Liz" Blaser and I currently live with my family on a sixth-generation family farm near Duncan, Nebraska (population 365) where we raise corn, soybeans and cattle. As a current junior at Columbus High School in Columbus, NE, I participate in marching band, indoor winter percussion, Student Council, National Honor Society, CHS 101 (a mentoring program for incoming Freshmen), dance, 4-H and my church's youth group. Of all my extracurricular activities, riding and showing horses is my ultimate passion and one in which I have been extremely grateful to participate since my very first horse in 2008 when I was just seven years old.

Through my local club, Central Plains Reining Horse Association and regional affiliate, North Central, I have served as an elected youth delegate for the past three years holding membership with NRHA since 2012. In looking ahead to 2018, I am excited to share my experiences with other youth members as NRHyA Vice President, so they can also experience NRHyA to its fullest potential, while also opening new opportunities to meet and network with youth from across the country who share the same passion for the sport of reining.
SECRETARY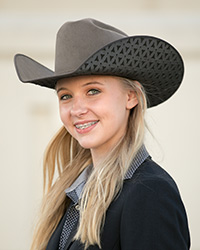 Hello! My name is Ashton Knerr and I am the NRHyA secretary. I am 16 years old, I live in Plain City Ohio, and I am a junior at Dublin Jerome High School. I have been riding horses for the past 13 years and have been a member of NRHA for 6 years where I have successfully placed in top ten for the past three years. In addition to NRHA, I am a competing member of IEA, AQHA, and APHA. Additionally I am the current President of my IEA equestrian team at Autumn Rose Farm.

I feel it's an honor to be the new NRHyA Secretary and I am look forward to making amazing new memories with my fellow officers. I am also looking forward to gaining more leadership experience as well as contribute to this organization. I look forward to becoming more involved in NRHyA.
TREASURER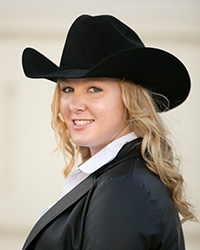 Hello. My name is Grace Wilson. I have lived in Smithfield, VA my whole life. I am 17 years old and a senior in high school. Reining has always been a huge part of my life. From the very first time that I rode a reining horse, I knew I would be hooked on the sport. I have had the privledge to travel with my trainer, Josiane Gauthier, on many adventures all over the country. I would not be the person I am today if it had not been for Josiane and her amazing influence through the years with me.

Working to maintain my performance horses throughout the years has taught me a lot about finances and hard work. I am honored to represent NRHyA as Treasurer for 2018. It is going to be an amazing year! I'm so excited to see NRHyA progress through this year, meet new people and even more excited to work with my four other board members to represent such a great organization.
HISTORIAN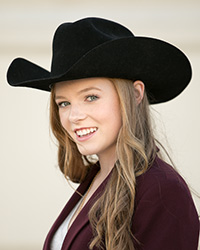 My name is Emma Lane. I am 15 years old and currently a Sophomore at Ridgecroft School where I play basketball, volleyball and soccer. I live the small town of Gates, NC. I have been showing Reining horses since I was six years old and I have loved it. I love making memories with my family and friends that I have met through NRHA.

I am very excited to be the 2018 NRHyA Historian. As historian I can't wait to capture these memories. I am looking forward to attending meetings, shows, and other activities. I am also looking forward to working with the other officers, meeting new people, making more memories and representing the NRHyA.