PRESIDENT
Hello! My name is Morgan Knerr, I live in Plain City, Ohio and I am currently a senior at Dublin Jerome High School. At my school I participate in softball, teen institute and young life. Showing horses is also an important part of my life. I have been showing horses for the past 13 years and showing reining horses for the past 6 years. I am a part of NRHA, APHA, AQHA, and IEA (Interscholastic Equestrian Association). I am also the President of the Autumn Rose Farm Equestrian Team.

This past year was my second time serving on the NRHyA board as the Vice President. Its been an amazing experience that has presented me with many opportunities I would have never imagined. Being a part of the 50th year of the NRHA gave me once in a lifetime experiences that I will never forget. I've become even more confident and an articulate public speaker in this past year. I have also had the opportunity to meet some of the most talented people in the industry, while making friends from all over the country.

I look forward to continuing to be a part of NRHyA and lead the youth to show them their potential and all the ways they can participate in our sport. I want to continue the growth of involvement in our organization. I would like to help youth the same way the NRHyA helped me become more involved and outgoing. We are the future of the sport of reining!
VICE PRESIDENT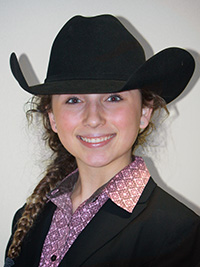 Hello! My name is Kenleigh Wells. I am a junior at Valley View High School, in Valley View, TX. I have been lucky enough to serve all of the NRHA youth as the 2015 Historian and 2016 Secretary. Being an ambassador for our reining youth, I've captured photos, made new friends and strengthened old friendships.

This year was special, as I was asked to help photograph the 2016 Larson Clinic with Sara Jensen. The officer team worked together in Lexington and hopefully added new youth to our numbers. I am truly happy to be running for the 2017 NRHyA officer team!

I have been showing reining horses since I was eight years old. My gelding, The Ultimate Magnum and I, were blessed to win the 2012 NAAC 13&U Championship, the 2014 NAAC 13&U Reserve Championships, and the 2015 South Central 14-18 Championship. I am riding a new derby aged mare. I love the opportunities to ride reining horses and I look forward to many successful years with my new mare. In addition to showing Reiners, I am the Valley View FFA chapter's secretary, and an active member to the Valley View 4-H. I show market goats through the Valley View FFA program.

After my freshman year I was inducted into the National Honors Society. I feel very fortunate to be involved in so many wonderful programs.

This involvement is something I love to pass on to our younger members.

Leadership, integrity, and a never quit attitude are traits that I have learned through NRHyA. These attributes can be useful inside and outside of the show pen. I look forward to serving you on the 2017 NRHyA officer team and promoting the great sport of Reining!
SECRETARY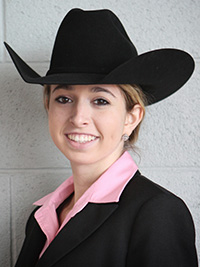 Hi! I'm Taylor Masson.

I am a junior and do virtual school. I live in Ft. Lauderdale, Florida. This past year I was lucky to serve as your NRHyA Historian. While having this eventful position, I was able to capture memorable pictures of the youth from all different associations, as well as spreading the love and support of our Reining industry. I am honored to be running for another position on the 2017 NRHyA Officer Team.

I have been showing reiners all of my life. This past year I have been working with more of a new horse named Sweet Ending with my trainer Ruben Vandorp. I was blessed to make the 2015 NRHA Youth Futurity finals and looking forward to many successful years together. I am very lucky to own such a talented and sweet-hearted gelding.

As you might see, I love all things in the Reining industry. From in the show pen to holding youth events. As well, as I enjoy traveling with my family.

I am looking forward to running this year and to get me and more youth that share the same passion of Reining horses more involved. I believe this past year I have gained a solid understanding of our organization and have developed great leadership skills to help me help you in the future. I plan to work hard for our association and be faithful and support the team and all the youth! I believe I can help lead the youth in the right direction and setting a high standard. I am hoping to bring all my leadership skills that I have learned this past year, on to the the 2017 show year! So, Help me create another memorable year in 2017 that we all want!
TREASURER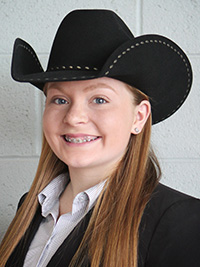 My name is Elizabeth "Liz" Blaser and I currently live with my family on a sixth generation family farm near Duncan, Nebraska (population 365) where we raise corn, soybeans and cattle. Growing up on a farm has been one of the best gifts I have ever received and one which has significantly influenced my choices during high school and my future career goals. From an early age, balancing farm life with studying and extracurricular activities has taught me discipline, the importance of hard work, leadership skills, perseverance, teamwork, creativity, generosity, and patience. These same attributes are also characteristic of our current NRHyA national officer team and the basis of my candidacy for the position of Treasurer. My candidacy is also inspired by respect of the National Reining Horse Association and the opportunity to serve the organization in a way that will inform, motivate and inspire other youth members.

As a current sophomore at Columbus High School in Columbus, NE, I participate in marching band, indoor winter percussion, Student Council, National Honor Society, CHS 101 (a mentoring program for incoming Freshmen), dance, 4-H and my church's youth group. Of all my extracurricular activities, riding and showing horses is my ultimate passion and one in which I have been extremely grateful to participate since my very first horse in 2008 when I was just seven years old. When I reflect on my involvement in reining, it's so much more than scores, placings, plaques or buckles. Reining for me has meant accepting challenges, overcoming obstacles, hard work, tireless dedication and priceless friendships and lifetime memories made along the way.

Through my local club, Central Plains Reining Horse Association and regional affiliate, North Central, I have served as an elected youth delegate for the past three years holding membership with NRHA since 2012. Taking the next step in running for a national officer position will further facilitate my abilities to share my experiences with other youth members so they can also experience NRHyA to its fullest potential, while also opening new opportunities to meet and network with youth from across the country who share the same passion for the sport of reining.

Thank you for your support and vote at the youth meeting on Friday, October 2nd and good luck to all competitors!
HISTORIAN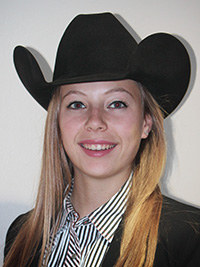 I'm Reagan Stephens, a sophomore at Weatherford High School in Weatherford, Oklahoma. In addition to riding horses, I enjoy painting, braiding horsehair jewelry, horse judging, and public speaking. I'm an active member of our church youth group, 4-H and FFA. Reining has fascinated me since I attended the NRHA Futurity Finals at 8 years old. I've been competing in reining with my horse Ima Lil Juiced for three years now, and enjoy every minute I ride!

Some of the skills and experiences that would assist me as a member of the leadership team are the state and national leadership seminars I have attended including the NRHyA Leadership Conference. I was selected to be a member of the Oklahoma State 4-H Ambassadors whose primary duties are to keep in contact with state donors through thank you notes and personal visits as well as work on statewide plans to improve the organization's visibility. I have conducted workshops on equine subjects and citizenship programs. I also have my own horsehair braiding and western art business, Eclectic Equine art.

If elected as NRHyA Historian, I will work with the leadership team to give back to this organization that has done so much for me. In addition to taking pictures and recording the highlights of the year, I hope to find ways for our organization to partner with other equine organizations on public service ideas. Recently as the current Oklahoma Reining Horse youth Association president, I coordinated efforts between NRHA (who provided some caps), NRHyA, OkRHyA and a County 4-H Equine Club veterans center and 5 care packages for their staff. One of the residents told me that he actually rode reiners "back in the day."!

NRHyA is a fun, friendly, and helpful group of people, and I would be honored to serve on your officer team.