PRESIDENT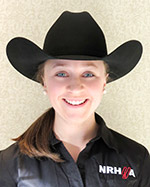 Emma Holbrook Hi! My name is Emma Holbrook. I am running for the 2014 NRHyA President position. I have been riding and competing on horses since I was five years old, and every day I learn more and more about the wonderful sport we call reining. I am extremely honored to have served as the 2012 NRHyA Vice-President and the 2013 President. For the past two years, I have been fortunate to serve on two strong officer teams. This past year has been amazing, and I am proud of all the accomplishments that the 2013 officer team achieved. Not only have we become closer as a team, but we have also brought our general membership closer as well.

If elected president for the 2014 term, I would like to encourage the youth in our organization to become more involved in activities at the local and national levels. Furthermore, I would like to encourage the continued community service involvement at the NRHA Derby and Futurity. For example, at the 2014 futurity we will be collecting shampoo bottles to send to the Salvation Army in Oklahoma City. I feel strongly that this history of service is important for our organization to continue and to build. Involvement in service projects builds character as well as work ethic.

In conclusion, if elected as the 2014 NRHyA President, I promise to work hard to continue building on the great work and traditions that previous officer teams have started. I also promise to continue to create innovative ideas to continue to grow and involve our general membership. I would greatly appreciate your vote. I look forward to seeing you all at the NRHA Futurity!
VICE PRESIDENT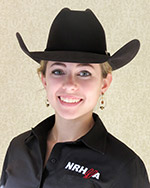 Shaelyn Vering Hello! My name is Shaelyn Vering and I am a Sophomore at Guardian Angels Central Catholic in West Point, Nebraska. I am president of my class, and I participate in cheerleading, dance, one act, and speech. I have been a member of the NRHA since I was nine years old and I have enjoyed every minute of it. Last year at the Futurity I made the top ten in the youth class, which was a great feeling. This past year I served as president of the Central Plains Reining Horse Youth Association and secretary of the NRHyA. Both positions have given me the opportunity to better my leadership skills and reach out to other youth. I have enjoyed growing in confidence and hope to continue to become a better leader by running for Vice President for 2014. As vice president, I want to help youth get more involved. I think that our youth are rock stars, and I want to make sure that they know that! 2014 is going to be an awesome year in the NRHyA.
SECRETARY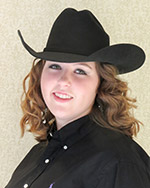 Claire Streeter Claire is excited to be a candidate for the 2014 NRHyA Secretary office. She is a16-year-old junior from Cheyenne, Wyoming where she attends Burns High School. She has enjoyed the challenges and responsibilities of leadership roles in FFA, 4-H, Student Council and FBLA where she has held numerous offices including president, secretary, reporter and chairperson of the prom committee. Claire represented Burns High as secretary of the FFA Parliamentary Procedure team at the National FFA Convention. She has competed in shows at the county and state level over the last 9 years, while participating in NRHA and AQHA shows over the past two years. Claire's interests include photography, public speaking, new hairstyles and of course riding and training horses.
TREASURER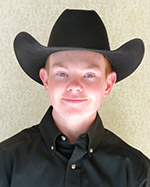 Wyatt Marshall My name is Wyatt Marshall and I am a junior at Burlington High School in Burlington, Colorado. I started showing in all-around events, but for the last 5 years, I have been showing in reining, working cow horse, and ranch horse versatility. I have held various offices in 4-H, FFA, and the Rocky Mountain Reining Horse Association. I was elected a delegate from the mountain region this year. I am involved in the Burlington Youth Council and my church's youth group. I enjoy showing Angus and Simmental heifers, horse and livestock judging, and fishing. But most of all, I love shopping for horses, spending time with my dog, Tippy, and riding my reining horse, Tin Top Kat. I also enjoy eating ice cream and roping with my friends during the summer.
HISTORIAN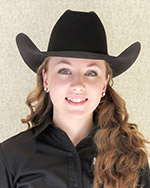 Claire Dittrich Claire Dittrich attends Elkhorn Valley High school as a sophomore who is involved in numerous extracurricular activities including basketball and volleyball. Last year she served as the treasurer for the National Reining Horse Youth Association. She has been riding horses since she was eight and reining became her favorite sport. Claire and her horse Spinster Wiz were State 4H reserve champions this year and also competed in Oklahoma City. Along with riding her horses, Claire stays busy whether she's with her friends or at school. She enjoys learning new things and traveling with her family.